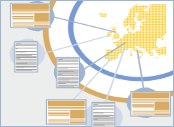 European Public Company Intelligence
- Audit Fees
- Audit Opinions
- Auditor Engagements
Audit Analytics Europe covers public companies listed on European exchanges, and includes auditor, tenure, and audit fee information. This database also covers Public Interest Entities (PIEs) as disclosed in the transparency reports of each audit firm by member state.
European Data Modules:
Download datasheet
| | |
| --- | --- |
| Audit Fees | Captures audit, audit related, tax, and other fees paid to the independent auditor. Presented in Reported Currency, USD and EUR. |
| Audit Opinions | Tracks all auditor reports on financial statements of EEA-exchange public companies. Key data points include office city of auditor and partner names. |
| Auditor Engagements | Track current auditor(s) of record. Key data points include current auditor and auditor tenure, as well as estimated Mandatory Auditor Rotation date. |
To see how our data can give you an advantage in targeted marketing, contact us for an online demo.