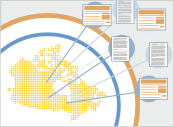 Canadian Public Company Intelligence
- Audit Fees
- Auditor Changes
- Audit Opinions
- Audit Committees
- Controls
- Financial Restatements
Our Canada modules provide detailed research and expert analysis on nearly 4,000 companies filing with SEDAR. Our data will help you better understand the Canadian audit marketplace whether it is trend awareness, market share breakdowns or industry composition.
Canadian Data Modules:
Download datasheet
| | |
| --- | --- |
| Audit Committees | Tracks the current and historical audit committee composition of Canadian public companies. Over 10,000 individual directors monitored. |
| Audit Fees | Perform benchmarking and trending analysis by market cap, revenue, location, and other key data points. |
| Audit Opinions | Tracks all auditor reports on financial statements of Canadian public companies disclosed since 2005. Key data points include office of auditor, and going concern modifications. |
| Auditor Changes | Tracking auditor changes for nearly 4,000 Canadian public companies. Analyze wins and losses, issues associated with the change, and more. |
| Auditor Engagements | Updated daily, we track who audits every Canadian public company that files on SEDAR. Key data points include the current auditor and auditor tenure. |
| Controls | Tracks control assessments of Canadian public companies. Key data points include the text of the disclosure, the filing date, period end, and if the controls were effective. |
| Financial Restatements | Tracks all material financial restatements disclosed by Canadian issuers. All accounting and accounting related issues including IFRS citations are categorized for each restatement. |
To see how our data can give you an advantage in targeted marketing, contact us for an online demo.